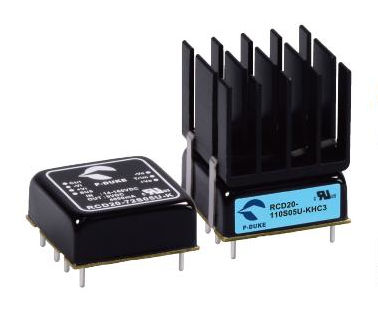 Depending on part, they take 9 to 75Vdc, or 14 to 160Vdc, and turn that into single or dual outputs of 5, 5.1, 12, 24, ±12 or ±15Vdc.
"Using just one dc-dc model converter for 24, 28, 36, 48, 72, 96 or 110Vdc supply voltages in different regions avoids multiple input voltage models in the warehouse," according to Luso Electronics, which is stocking the parts.

A built-in hold-up circuit is included to simplify the design of supply interruption and changeover to EN 50155.
Energy for this is stored in capacitors connected to the 'Bus' pin provided, which "provides a stable and fixed charging voltage which allows the usage of just one hold-up capacitor for any input voltages and, in addition, reduces the in-rush current at the start-up phase", according to Luso.
Protections include over-current, output short-circuit, output over-voltage,  over-temperature and adjustable input under-voltage lock-out. Input-output isolation is 3kVdc.
Operation is over -40°C to +105°C, with de-rating at higher temperatures, and up to 5,000m altitude.
Made-to-measure heatsinks of various height are available to achieve OT4 operating temperature and ST1 extended operating temperatures as per EN 50155.
This series is pending certification to IEC/EN/UL 62368-1, EN 50155 and EN 45545-2. Shock and vibration levels are compliant with EN 61373 and MIL-STD-810F.
Yesterday Recom announced 20W ac-dc converters with OVC III rating to 2,000m