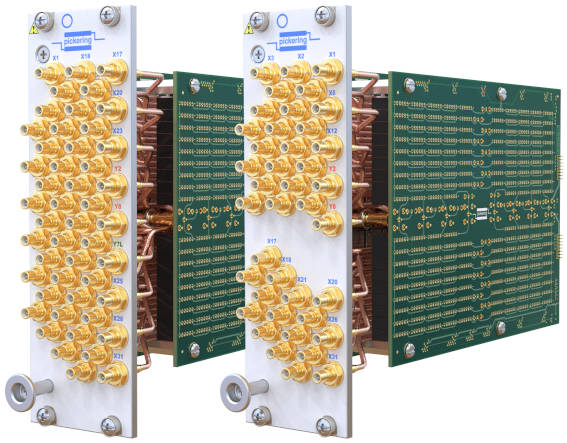 Called 40-724 (PXI interface) and 42-724 (PXIe interface), they have a 50Ω characteristic impedance and bi-directional signal paths.
All X and Y connections have isolation switches to disconnect the matrix from the external test fixture to maximise isolation and RF performance.
Versions are available that include Y loop-through connections to ease matrix expansion between adjacent modules.
"The loop-through ports are connected directly to the matrix, which allows the creation of X-to-X signal paths between cards when cascading multiple modules. This helpful feature increases test system flexibility but with reduced RF performance," according to the Essex company.
Switching is 50Ω, through ruthenium-sputtered reed relays with a typical operating time of 500μs.
While the control interface is PXI or PXIe, all versions use industry-standard SMB connectors to interface with external instrumentation and DUTs (devices under test).
Support comes from Pickering's eBIRST switching system test tools that can be used for preventative maintenance tests to determine if relays are approaching end-of-life.
Use is expected in general-purpose RF testing in many applications, including for emergency radios and semiconductors. The company's connection division offers both standard and custom cable sets to go with the modules.
16×4, 16×8 and 32×4 versions are also available in the 4x-724 family.