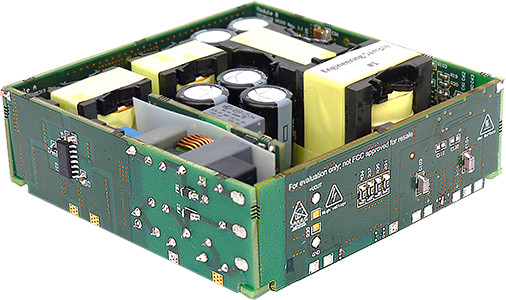 Called EPC9171, it converts 90 – 265V universal ac mains to up to 5A dc, adjustable across 15 – 48V.
Claimed power density is ~1.1W/cm3 – the design is 84 x 84 x 26mm
Inside there is a silicon mosfet active bridge rectifier front-end, followed by two-stage converter: a two-phase interleaved GaN boost power factor corrector, then an isolated GaN LCC resonant power stage – the GaN components are a mixture of EPC and Navitas parts.
"This solution provides a higher power density than a conventional, three stage design typically consisting of active PFC, LLC and buck power stages," according to EPC. "Unlike the well-known LLC resonant power stages, which suffer from limited output voltage range, LCC resonant converters are ideal for wide output voltage range multi-point applications."
The LCC stage operates betwween 350 and 580kHz, and uses a pair of 100V 3.2mΩ EPC2218 GaN transistors on its secondary side, "driven by fast synchronous rectifier controllers to minimise the losses over the whole output voltage and current range and allow a simple yet effective thermal design," said EPC. Output ripple is typically 100mV.
240W takes the charger through laptops and notebooks, and on to gaming PCs, eBikes and eScooters where EPC argues that the decreasing cost of 48V batteries is increasing adoption.
The company points out that the kit does not provide safety-grade insulation, and nor is there any over-temperature protection.
The EPC9171 evaluation kit product page is here, and it is available from Digi-Key.