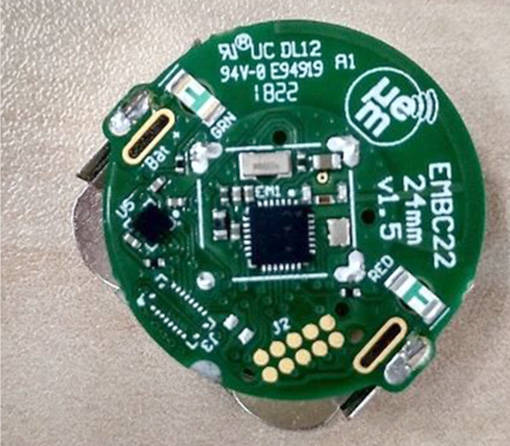 Called EMBC22, it "is compatible with beacon formats including iBeacon, Eddystone, AltBeacon and proprietary systems such as Quuppa Intelligent Locating System," according to distributor Omni Pro Electronics, which is stocking the part. It "is powered by the EM9304, considered by EM to be the world's lowest power Bluetooth IC".
The module is 26mm in diameter, or 30mm inside the compatible plastic housing.
The accelerometer can be used to activate beaconing on actions such as movement or gestures (flipping the module over, for example), and over four years of operation is expected before the battery needs changing after six hours of activity per day (0dBm output, one second advertising intervals). A pre-use 'warehouse mode' is included to minimise drain.
At maximum power, line-of-sight range can be up to 200m. Temperature range is -20 to +60°C.
Secured over-the-air upgrades are possible via a phone (iOS and Android supported), allowing parameters to be modified, including: custom packet types, beacon interval, transmitter power, accelerometer function, accelerometer sensitivity, device name, address, manufacturer name, model number. A 2D unique serial number is printed on the beacon housing for optical scanning.
Designed so that it unlikely to be activated accidentally, there is a push button can be activated with a firm press, and green and red LEDs to indicate operational mode that are visible through the plastic enclosure under indoor lighting.
Omni is a franchised distributor for EM Microelectronics. Its EMBC22 page is here.