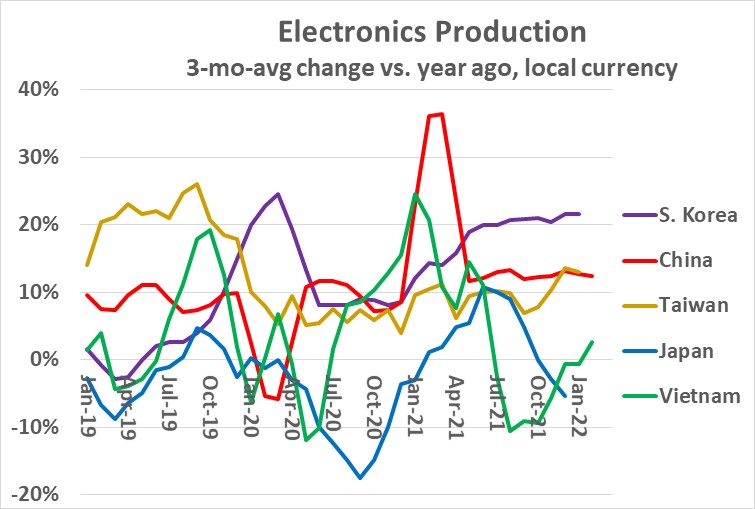 There is no significant semiconductor or electronics manufacturing in Russia, Ukraine, or neighboring countries.
However, lower overall demand in 2022 will reduce electronics demand to some extent. The major electronics producing countries in Asia have mostly returned to normal growth.
South Korea, which had a minimal pandemic related slowdown, is the strongest with three-month-average growth over 20% for the last eight months through January 2022.
China is back to pre-pandemic growth rates in the 12% to 13% range.
Taiwan also did not see a significant pandemic slowdown and is growing 13%.
Vietnam electronics production declined in autumn 2021 due to pandemic-related shutdowns, but it returned to growth in February 2022.
Japan had production declines at the end of 2021 following pandemic recovery growth of over 10% earlier in the year. Japan is continuing a long-term slowing of electronics production due to shifts to lower-cost Asian countries.
US electronics production growth has been in the 4% to 5% range for the last five months through January 2022, above the pre-pandemic range of minus 1% to plus 2% in 2019.
The 27 countries of the European Union (EU 27) showed a 14% decline in January 2022 after robust growth in the 30% to 40% range in the first half of 2021. In addition to pandemic effects, the EU 27 has benefited from a shift of production from the United Kingdom after Brexit.
The UK has experienced flat to declining electronic production of the last three years except for pandemic recovery growth in April through August 2021.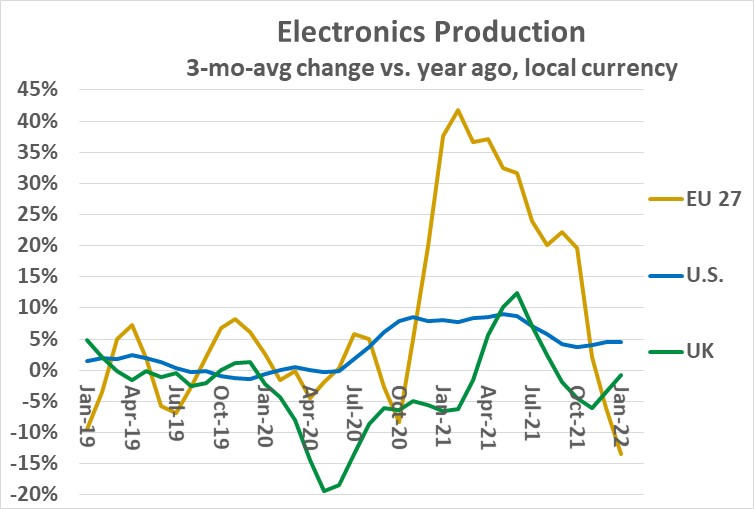 Comparing data from the fourth quarter of 2021, when the world was in pandemic recovery, to the fourth quarter of 2019 (pre-pandemic) shows the trends by country and product.
The chart shows the change in electronics production in local currency for 4Q 2021 versus 4Q 2019.
The EU 27 and South Korea had growth over 30%.
China, Taiwan, and Vietnam had change in the mid-teens to low 20% range.
U.S. growth was a moderate 8%. Japan and the UK both had 9% declines as production shifted from Japan to other Asia countries and from the UK to EU countries.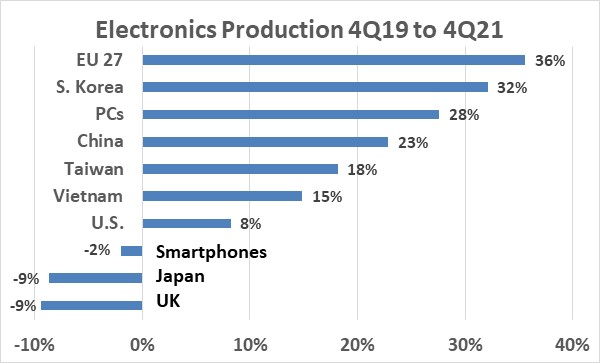 PC unit shipments grew 28% from 4Q 2019 to 4Q 2021 driven by more people working and learning from home during the pandemic.
Smartphone unit shipments were basically flat, down 2%. The electronics industry appears to have largely overcome the pandemic slowdown and is back on track for steady growth.
While the war is causing uncertainty for the global economy, the effect on electronics will likely be noticeable but not significant