Since Google exited Google Glass hardware, this space seems to have been vacated, maybe leaving an opening for those addressing the visually-impaired market… Note, however, Envision Glasses work with Google Glass Enterprise Edition 2, so Google's software is obviously still very much alive.
Titanium
Built around a Qualcomm quad-core processor and the Android 8.0 "Oreo" OS, they come in a sleek, relatively unobtrusive design with a titanium frame, an 8-MP camera, Wi-Fi and Bluetooth for comms, USB-C for charging and a directional mono speaker (USB audio and Bluetooth audio). Not forgetting the little 640 x 360 Optical Display Module. They weigh 50 grams.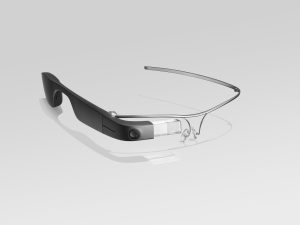 Functionality includes scanning text into speech, for assisted reading, the ability to make a video call, scene descriptions and face recognition support.
Envision says they can also aid colour recognition, support object recognition, light recognition and enable the exporting of text to help share information…
The company was recently showing the glasses at the CSUN 2022 Assistive Technology Conference, in California.
"Our mission is to improve the lives of the world's two billion people who are blind or visually impaired by providing them with life-changing assistive technologies, products and services," said Karthik Kannan, co-founder of Envision.

"By analysing real time user data and direct feedback from across our communities, we are able to constantly enrich the Envision experience and innovate our products, most recently with the addition of our new capture and context features. Everyone is entitled to live in a world without boundaries and are thrilled to make Envision Glasses to as many people as possible."

Smart Glasses Spec
What is the tech spec of the glasses?
SoC: Qualcomm Quad Core, 1.7GHz,10nm.
OS: Android Oreo.
Memory & Storage: 3GB LPDDR4 / 32GB eMMC Flash.
Wi-Fi: 802.11ac, dual-band, single antenna.
Bluetooth: Bluetooth 5.x AoA.
Camera: 8Mp, 80 DFOV.
Display: 640×360 Optical Display Module.
Audio out: Mono Speaker, USB audio, BT audio.
Microphones: 3 beam-forming microphones.
Touch: Multi-touch gesture touchpad.
Charging & Data: USB Type-C, USB 2.0 480Mbps.
LED: Privacy (camera), power (rear).
Battery: 820mAh with fast charge.
IMU: Single 6-axis Accel/Gyro, single 3-axis Mag.
Power-saving features: On head detection sensor, and Eye-on screen sensor.
Ruggedization: Water and dust resistant.
Weight: ~46g (pod).
The glasses cost €3,270. And note, there is also an option for glasses with Smith Optics Frame, pictured right.
The associated Envision AI app works with Android and iOS.
You can read more about Envision on their website.