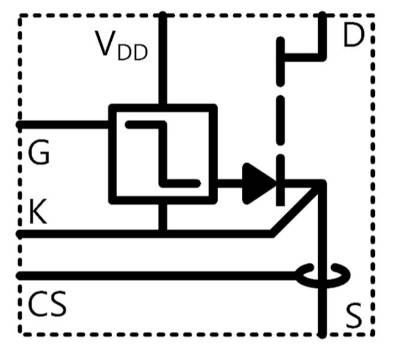 The company is using monolithic GaN integration, branded 'ICeGaN', to modify the gate behaviour of GaN power transistors, without using cascode-pairing,  to make them compatible with drivers made for traditional silicon mosfets.
At the same time, it has added a current sense output which is used by connecting an external low-power low-value (<10Ω) resistor from the CS output to 0V and amplifying the resulting voltage using an op-amp.
The internal ICeGaN circuitry requires a 9 – 20V Vdd supply.
"No additional components are needed to drive ICeGaN, no clamping diodes for protection, no negative voltages are needed to turn off the transistor, and still the highest performance levels are guaranteed by GaN's intrinsic properties," said CGD v-p business development Andrea Bricconi.
The 650V enhancement-mode transistor series, called 'H1', has four devices, all which can handle 20Vgate (~3Vth) and be driven by standard mosfet drivers:
CGD65A055S2 55mΩ 27A in 8x8mm DFN (photo below)
CGD65A130S2 130mΩ 12A in 8x8mm DFN
CGD65B130S2 130mΩ 12A in 5x6mm DFN
CGD65B200S2 200mΩ 8.5A  in 5x6mm DFN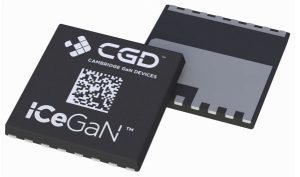 "CGD's patented technology merges the ease-of-use benefits seen in cascode configurations with the simplicity of a single die e-mode hemts, as well as a number of integrated smart sense and protection features," according to the company. "The 650 V H1 product series represents CGD's commercial launch and is an industry first, enabling the use of standard mosfet drivers and no external components needed for protection."
Applications are foreseen in low and mid-power switching PSUs for consumer applications: mobile chargers, for example, as well as adapters for laptops, gaming and computers.
"Expansion is planned towards high power servers and telecom markets for data centres, PV inverters and renewable energy production, targeting EV/HEV systems in the future," said CGD.
GaN gates
All GaN power transistors are 'high-electron-mobility transistors' (hemts) and have very specific gate drive requirements. For example, the gates are damaged by drive much above 6V – and so need special drivers, or to be cascode-connected with a low-voltage silicon mosfet (many 'GaN power transistors' are actually co-packaged cascode pairs), or to have a driver or drive-modifier integrated. CGD's approach  is an example of the latter.
CGD is a six year old spin-out from the University of Cambridge, founded by CEO Giorgia Longobardi and CTO Florin Udrea. It holds 39 patents and applications, 20 of which are distinctive inventions.
The company is supported by several multi-partner UK and EU-funded projects, the latest being ICeData which aims to develop and commercialise GaN ICs for data centre server power supplies – funded by the UK's Department for Business, Energy and Industrial Strategy (BEIS) through the Energy Entrepreneur Fund.
"I have been working on power semiconductor devices for over three decades," said CTO Udrea. "My research at has been focused on diverse materials such as silicon, gallium nitride, silicon carbide and diamonds and a variety of devices from HEMTs to IGBTs and from superjunctions to finFETs. There have been many wrong prognostics regarding the development of wide bandgap products. But this time it is different: the time for GaN is now."
See CGD at APEC booth 1733. Longobardi, Udrea and Bricconi will be there.
Data sheets have not yet been revealed, but there are three application notes:
CGD-AN2206 Current sensing with ICeGaN