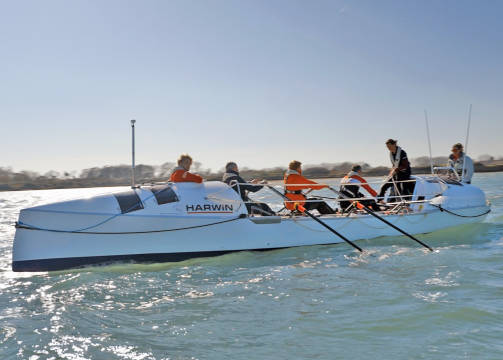 "First held in 2005, the competition is a continuous circumnavigation of mainland Britain," according to Harwin. "Starting at Tower Bridge on 12th June, the teams will embark on a 2,000 mile route."
Rowing is non-stop without support, and the record in 26 days 9 hours.
While they travel, said Harwin, participating teams will: measuring marine biodiversity, sample sea water for micro-plastics, monitoring noise pollution levels, record sea temperature.
Sampled sea water will be analysed by the University of Portsmouth.
"Monitoring microplastics, underwater noise pollution and eDNA on this scale have never been done before in British waters," said Portsmouth scientist Fay Couceiro. "This race will allow us to get a baseline for our oceans. Once we have that, this annual circumnavigation will allow us to know if our seas are getting better or worse."
According to Harwin, there is no complete UK costal water microplastics map.
"The closest map comes from Cefas," said Couceiro, "but there are still areas where no data has been collected."
Electronics Weekly has asked for more information on the sponsorship and sampler development.
Harwin makes its product range in Portsmouth Hampshire.