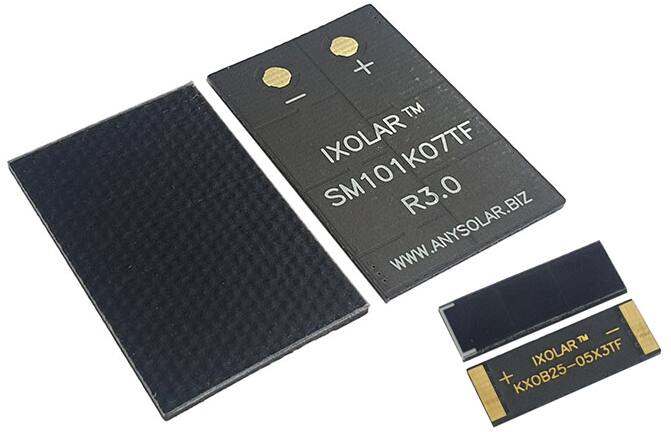 ANYSOLAR's thin solar cells weigh 40% less and are ideal for charging lightweight battery-powered products
ANYSOLAR's IXOLAR™ cells are made of high-efficiency monocrystalline solar cells with a power conversion as high as 25%. The 1.2 mm thick solar cells have a 40% reduced weight, making them ideal for charging many battery-powered products where weight is a concern. The Thin KXOB/SolarBits can be assembled and easily reflow soldered as one or many cells, incorporating any variation or number of cells into one product. Also offered is the Thin Solar MD as a module concept of multiple dies in one package. The module is fully encapsulated with polycarbonate (PC) film to protect it from the environmental elements associated with outdoor applications. The SolarMD can be soldered with low-temperature silver paste and oven cured or manually soldered.
The wide range of applications includes remote sensors, battery-powered lights, wireless self-powered security devices and systems, and handheld consumer products such as flashlights, mobile phones, cameras, PDAs, MP3 players, and more. They are also suitable for industrial applications, portable instrumentation, portable high-efficiency tools, portable medical devices, automotive toll transponders, portable radios, and charging emergency backup batteries.
Features
Thin 1.2 mm design reduces weight by 40%
High efficiency 25% power conversion
Operating temperature up to +100°C
No degradation of power output
No loss of frequency response
more information: https://ixapps.ixys.com/DataSheet/IXYS%20Solar%20Product%20Brief.pdf