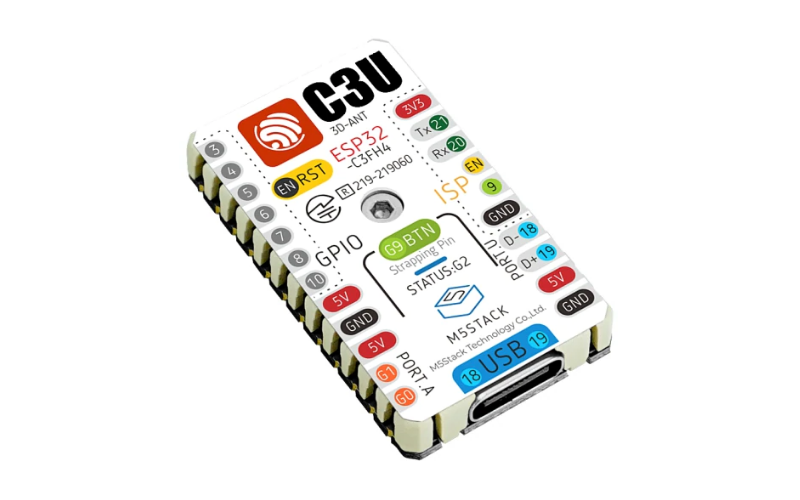 Chinese electronic device manufacturer M5Stack unveiled a RISC-V powered M5Stamp C3U IoT module with advanced wireless connectivity for home and industrial automation. For the implementation of IoT projects that are subject to operate at higher temperatures of up to 230℃, the M5Stamp C3U IoT module is shipped inside a heat-resistant plastic enclosure.
At the heart of the module is the ESP32-C3 single-core microcontroller system-on-chip based on the open standard RISC-V architecture clocked at a maximum frequency of 160MHz. The SoC supports wireless connectivity including Wi-Fi and advanced Bluetooth 5.0 Low Energy, making it suitable for remote IoT automation deployment that demands a larger coverage area. ESP32-C3 integrates 22 configurable GPIOs, 384kB ROM, and 400kB internal RAM out of which goes for the 8kB RTC SRAM. To store the custom code developed for the intended application, the M5Stamp C3U IoT module gets 4MB of flash storage.
In terms of security, which is of concern for remote applications, the IoT module combines RSA-3072-based secure boot and the AES-XTS-128-based flash encryption. The ESP32-C3 chip supports the secure boot V2 using the RSA-based app and bootloader verification to protect the module from running any unauthorized code by checking the (second stage bootloader and each application binary) software that is being booted is signed. Another security feature integrated into the SoC is the AES-XTS, which uses 128 bits per cycle for data encryption and advanced encryption standard (AES) block cipher as a subroutine.
Sized at 34×20 mm with a weight of fewer than 4 grams, the M5Stamp C3U IoT module is designed to support SPI, UART, I2C, I2S, PWM, and USB serial ports among many others. To interface external sensors, the developer can choose any module that supports any of the above-mentioned serial communication protocols. There is a total of 14x input/output interfaces (GPIOs) other than G11-G17 and G20, which are either used for other purposes or are internally connected.
Analysis
Affordable, compact hardware for hobbyist IoT projects, you can consider buying the M5Stamp C3U IoT module at $5.90 plus shipping charges. Also, to get started with a RISC-V-based CPU, the module offers detailed documentation to get started with a variety of options. However, for data-intensive applications that require parallel processing, the hardware is designed with less RAM and might create problems for implementations like live video streaming.