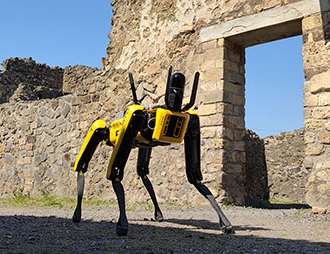 One of its tasks is to help carry out monitoring operations of archaeological structures, gathering and recording data useful for the study and planning of interventions, with no threat to human safety.
In a wider role, it will also help thereby to manage the general safety of the site and of the workers.
The trial is part of a broader Smart@POMPEI project of the Archaeological Park of Pompeii, say the authorities in Italy. They say they want to render Pompeii a "Smart Archaeological Park" via "intelligent, sustainable and inclusive management of the Park" using technology.
The trial is a credit to the adaptability of Spot. The people at Pompeii thought that previous technology systems couldn't find a place on the archaeological site "due to the heterogeneity of environmental conditions, and the size of the site".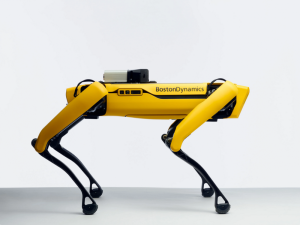 Spot, as I've previously mentioned, can be controlled remotely, is terrain-agnostic and can also repeatedly follow a pre-mapped route – while avoiding obstacles or even climbing steps or levels, enabling it to easily and regularly scan sites with minimum resources and time.
"Today, we wish to test the use of these robots in the underground tunnels that were made by illegal excavators and which we are uncovering in the area around Pompeii, as part of a memorandum of understanding with the Public Prosecutor's Office of Torre Annunziata, led by NunzioFragliasso," said the site's Director General Gabriel Zuchtriegel.

"Often the safety conditions within the tunnels dug by grave robbers are extremely precarious, as a consequence of which the use of a robot could signify a breakthrough that would allow us to proceed with greater speed and in total safety."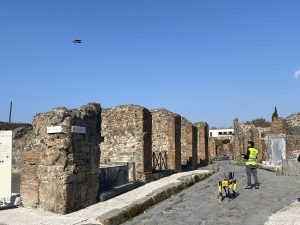 And Spot will not be alone – a drone is also being used as part of the technology experiment, see right. This is a Leica BLK2FLY, described as the first flying laser scanner capable of autonomously conducting 3D scans.
As is customary, let's list some of Spot's recent exploits. They include robotic dog roaming a Norwegian oil rig, going on Covid-19 patrol in Singapore, becoming a sheep dog in New Zealand and helping builders redevelop the Battersea Power Station.
I await its next location with interest! Perhaps I should say, quo vadis Spotus?
You can read more about the robotic system itself on the Boston Dynamics website. And you can see Spot in classical action in Pompeii below:
Pompeii, did I say? You know what that means, long-running Gadget Master readers… Take it away, Pink:
[Via New Atlas]