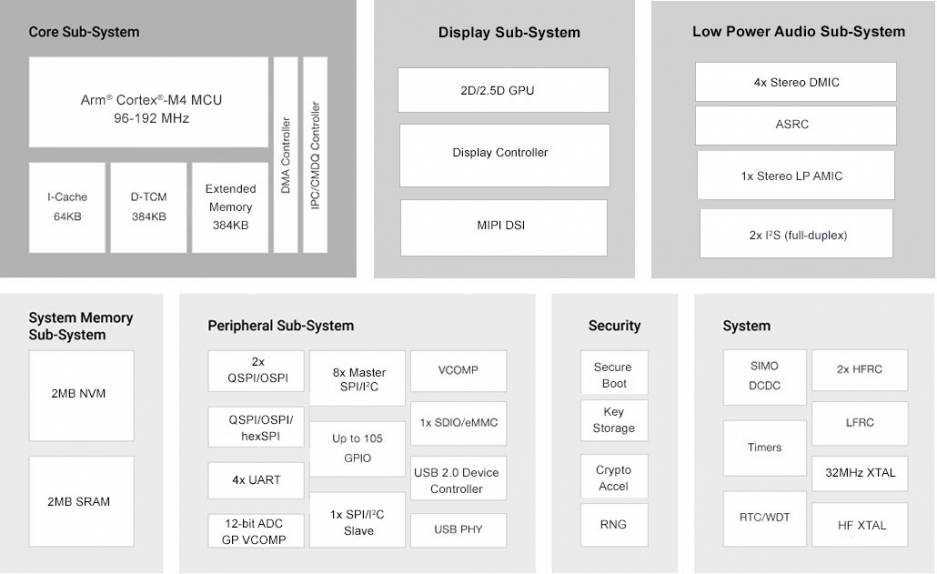 They are Apollo4 Plus and Apollo4 Blue Plus, both with an Arm Cortex-M4 core (up to 192MHz, with floating point), up to 2Mbyte MRAM (4μA/MHz operation executing from MRAM, with cache) and up to 2.75Mbyte of SRAM. The 'Blue' version also has a Bluetooth Low Energy 5.1 radio.
Security is addressed with features including secure boot, secure over-the-air updates and secure wired updates.
These are "more robust security features to better protect power-constrained IoT endpoint devices without compromising power efficiency", according to the company.
Displays up to 500 x 500 are handled through a MIPI DSI 1.2 interface with two data lanes up to 500Mbit/s. Up to four layers with alpha blending, and a 2D/2.5D graphics accelerator is included.
For audio, there is one stereo analogue microphones interface and four stereo digital microphone interfaces as well as two full-duplex I2S ports with ASRC.
"The latest addition to the Apollo4 family provides enhanced graphics display and greater voice capabilities to serve as either an application processor or a co-processor for battery-powered end-point devices," said Ambiq. The audio subsystem is "designed to compute complex algorithms required for precise voice recognition and higher fidelity voice capability needed for voice calls".
Operation is over 1.71 to 2.2V and -20 to +60°C, and the devices come in 5 x 5mm 146pin BGAs with 105 GPIO pads.
Applications are foreseen in smart watches, smart bands, smart homes, consumer medical devices, and motion and tracking units.