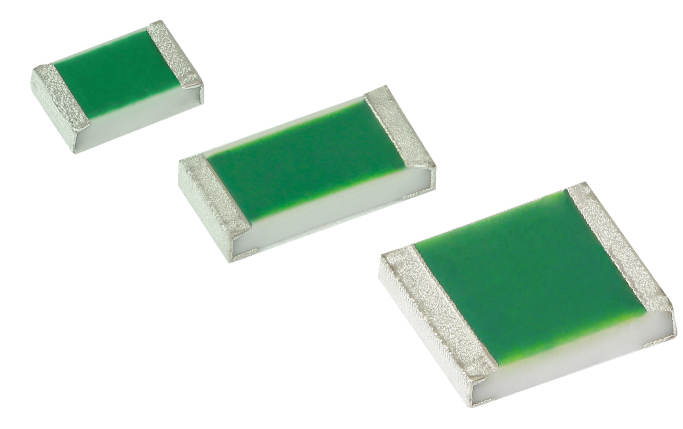 They are the TNPV0805 e3 series, introduced as part of the greater TNPV e3 series (table below) of automotive high-voltage thin-film flat chip resistors.
"Typical applications for the AEC-Q200 qualified device will include voltage measurement in automotive and industrial inverters, voltage dividers for battery management systems, on-board chargers, and test and measurement equipment," according to the company.
Resistance options span 180k to 1MΩ and options include lower precision (±1 or ±0.5 %) and wider thermal coefficient (±50, ±25 or ±15ppm/K) parts.
Operation is over -55 °C to +155 °C, and load-life stability can be as good as ≤0.05 % for 1,000 hours at rated power and +70°C ambient temperature. Sulphur resistance is in accordance with ASTM B 809.
They are halogen-free, RoHS-compliant and pure matte tin plated – compatible with Pb-free and Pb-inclusive soldering.
Vishay Intertechnology Extends TNPV e3 Series of High Voltage Thin Film Flat Chip Resistors With Compact 0805 Case Size
Automotive Grade Resistor Saves Space and Lowers Costs With Operating Voltages to 450 V, Tight Tolerance Down to ± 0.1 %, and Low TCR Down to ± 10 ppm/K
TNPV0805 e3
TNPV1206 e3
TNPV1210 e3
Case
0805
1206
1210
Resistance range
180k to 1MΩ
160k to 2MΩ
121k to 3.01MΩ
Tolerance
±1, ±0.5 or ±0.1%
Temperature coefficient
±50, ±25, ±15 or ±10ppm/K
Rated dissipation, P70
2oomW
250mW
330mW
Operating voltage
450V
700V
1,000V
Temperature range
-55 to +155°C
Image shows 0805, 1206 and 1210 sizes