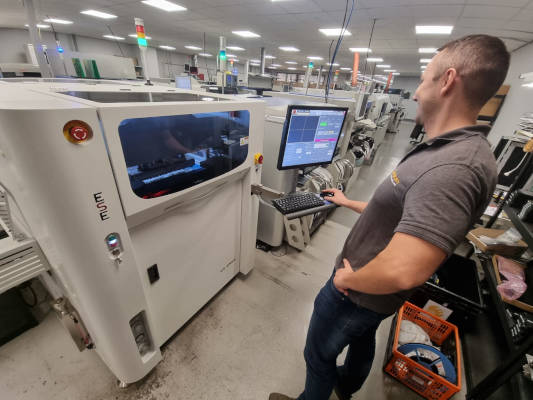 "During the pandemic we experienced an unprecedented period of growth and built a strong order book through both existing and new business," said MD Marc. "Given our high levels of demand we felt that it was particularly important to upgrade to the latest technology."
The counter, an XRHCount, is contactless, using X-rays and artificial intelligence to count through ESD protection bags. It has a local component database and needs no teaching to commence counting. The machine "counts within 8.5s per reel," said UKC.
The automatic screen printer handles PCBs from 50x50mm to 550x400mm and 0.1 to 5mm thick.
It is an SMT ESE US-2000X with camera vision, adjustable stencil rails, motorised conveyor-width adjustment and a cycle time of 10s.
Accuracy is ±12.5um (six sigma) and it will repeat to ±25um (six sigma), said UKC.
Founded in 1997 and based in Middleton, Manchester in a 20,000sqft facility, UKC offers design, rapid prototypes, manufacture, quality and testing for PCBs. It clients cover sectors including industrial, leisure, lighting, automotive, aerospace, telecoms and pest-control.
.
"The latest equipment will make significant improvements in processing speed, helping us increase efficiency as well as reduce downtime to bring significant benefit to the business, so the new investment is very important for the future of the company."
ENDS
Editors' notes:
About UK Circuits
Founded in 1997, UK Circuits is a leading player in the contract electronic manufacturer's market. It provides free issue assembly and full procurement requirements that require design, manufacture and test circuit boards using surface mount and conventional (through hole) assembly.
The business has grown organically from a small 1,500 sq.ft facility and just six employees servicing three clients to over 20,000 sq.ft state of the art facility with over 50 employees servicing over 100 clients from the Industrial, Leisure, Lighting, Automotive, Aerospace, Telecoms and Pest control sectors in both the UK and globally.