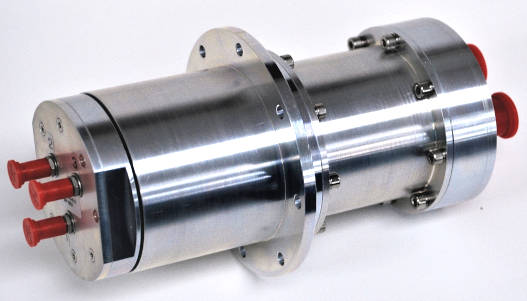 Called AMCORJD-3, it is for antennas rotating continuously "at in excess of 60rpm and typically exposed to harsh environmental conditions such as wind, rain and salt spray," according to the company. "The design brief was that it had to fit in the same space as the previous two channel version."
The channels cover 8.5 to 9.5GHz and can handle 50W average and 200W peak.
Insertion loss is 1.2dB max, VSWR is 1.5:1 and it offers isolation of 80dB.
Connectors are N-type on the rotating side and SMA on the fixed side.
Dimensions are 84 x 150 excluding the connectors and bulkhead mounting flange.
The body is aluminium with a Surtec finish and, for long life, it is a non-contacting design except for the replaceable bearings, which are therefore the only parts that can wear. Sealing is to IP65.
Applications are foreseen in radar systems for coastal and border surveillance, or critical infrastructure protection.
The rotary joint is designed and manufactured at the company's Basingstoke facility, from where custom rotary-joints can also be supplied – the company was founded in 1995 and makes rotary joints for Ka, Ku & X-band military and commercial applications.
See the company's products at European Microwave Week's booth 119 from April 4th to 6th at the London ExCeL Exhibition Centre. Don't get confused over the dates – this is the delayed EuMW2021 event and still carries that name.