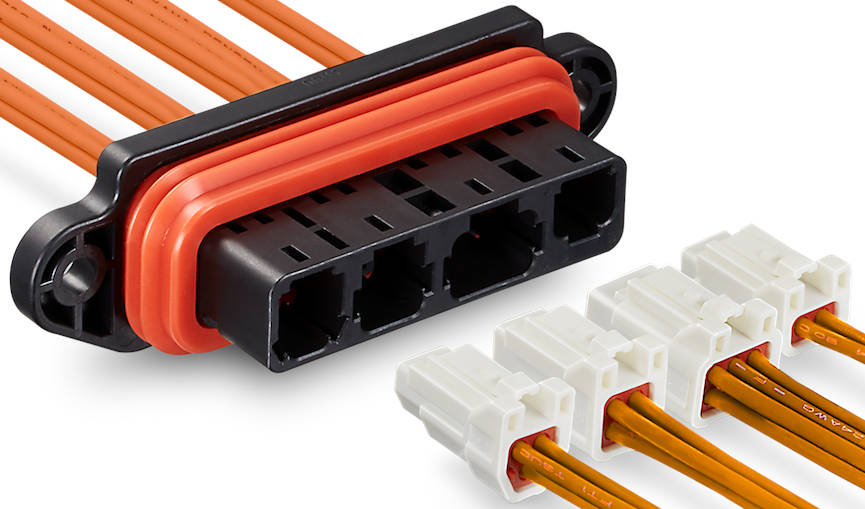 Outside the panel, the connectors offer an "IP67 equivalent", said the company, waterproof seal between cable and socket.
Inside the panel, the connectors offer a waterproof seal between panel and plug.
The crimped contacts and wire are inserted through the seals to complete the cable assembly.
The DF62WP series has a multi-row pin layout arranged in a grid pattern, and the parts use a two-point contact design to increase reliability under shock and vibration.
There are 15 contacts in groups of 3, 4, 6 and 2 (see photo). Overall size is ~62 x 19 x 23mm, pitch is 2.2mm, and 20, 22, 24 and 26AWG wires can be accommodated.
Rating is 250V ac and dc, 5A and -40 to +105°C. Maximum resistance is 30mΩ. Durability is 30 insertion-withdrawal cycles.
Pars are halogen-free as defined by IEC61249-2-21.
A centre latch provides a tactile click during mating, and visual confirmation of completed locking. The latch is protected by tapered side guards that prevent entanglement in the harness and accidental un-mating.
Indoor and outdoor applications are foreseen, for example in home appliances, automatic ticket gates, food processing machinery, LED lighting, motorised bicycles, medical devices, security systems and robotic machinery.